Incredible moist and tender Ribs. This is a very easy crock-pot recipe -- a big hit at my house!!
Super easy and works perfect every time! I really doubted this recipe but it actually turns the ribs slightly crispy outside and SUPER tender inside. I lightly brush them with BBQ sauce but only because we like BBQ sauce, not because it needs it.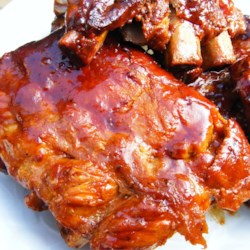 Rub
3/4 teaspoon black pepper
3/4 teaspoon white pepper
1/2 teaspoon cayenne pepper
1 1/2 teaspoon chili powder
1 teaspoon ground cumin
1/3 cup dark brown sugar
3/4 teaspoon ground oregano
1 tablespoon paprika
1 1/2 teaspoon salt
1/4 teaspoon sugar
***
4 pounds baby back ribs
1/4 cup barbecue sauce
Combine rub ingredients; mix well. Rub on all sides of ribs. Place ribs upright, meaty side out in 6 qt crockpot. Cover; cook on low for 7-8 hours, or on high for 3 to 3 1/2 hrs.

Remove ribs from crockpot. Brush with bbq sauce. Serve with additional bbq sauce.