... (a "green" cleaner)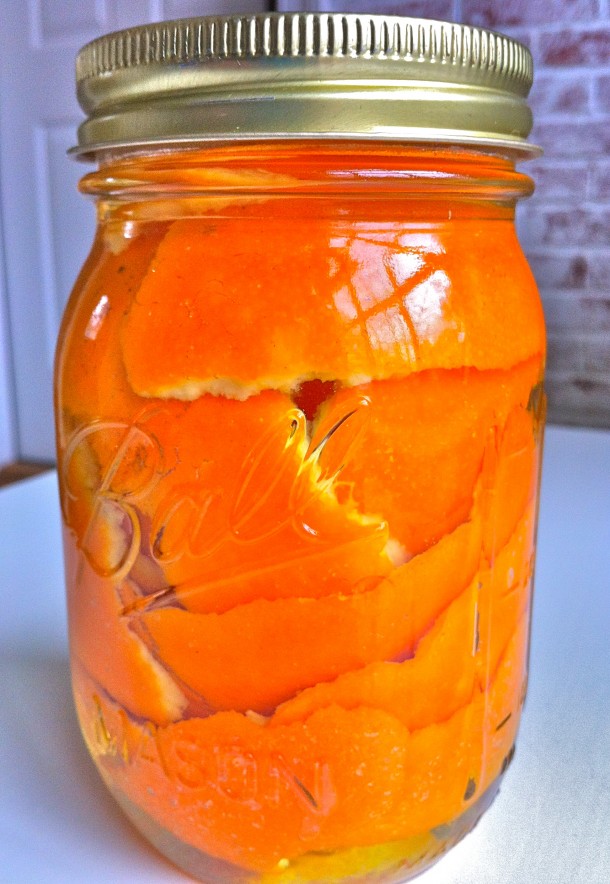 Several years ago, as I was spraying some household cleaner on my kitchen countertops, it occurred to me as I inhaled the strong fumes that they were probably settling in my water glass that sat nearby! And did I really want all this toxic residue on the surfaces on which my children ate, leaned, and played? Having read a bit about the effectiveness of good old vinegar as a cleaning agent and disinfectant, I dug out a spray bottle and poured some in. I never turned back!
When I saw the idea to steep the vinegar in orange peels, I marveled at how that could be a simple, clever, and inexpensive way to turn ordinary vinegar into a boutique-type cleaner (which could probably fetch ten times it's value!). But would the orange essence or the vinegar smell dominate? Mind you, the vinegar smell never bothered me, but I do love that fresh, sweet smell of an orange being peeled!
After two weeks of steeping in the vinegar, the essence of the orange peels did, in fact, permeate the liquid and the result was a sweet smelling success! While I used the following amounts, you could choose any size jar with a tight-fitting lid, stuff it with peels, and fill with vinegar. Although it would require more fruit, lemons, limes, and clementines would be excellent options!
Orange Vinegar
:
1 16-ounce canning jar
2 oranges, peels only (eat the insides!)
vinegar to cover
Curl the peels around the inside of the jar. I used two large oranges and would not have been able to fit another peel. If your oranges are small and you could fit another peel, feel free to add one more. Pour vinegar into the jar to cover the peels and close tightly. Store in the cupboard for two weeks, then transfer the vinegar to a spray bottle and use for all your cleaning purposes!